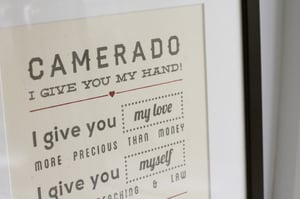 £

25.00
This print was made for my one year wedding anniversary and was taken from the poem that was read during our ceremony.
The print is taken from the poem by Walt Whitman written in 1856. Song of the Open Road is a fairly long piece of prose so the reading at the wedding took some of the more famous lines. I then distilled this down even more the final print.
Limited edition of 8 letterpress prints signed, numbered and dated.
Poster size 200mm x 300mm printed on 285gsm Fabriano Rosapina Avoria (Ivory) paper and signed, numbered and dated. The print will be posted first class and packaged with acid free tissue paper in a robust poster tube to prevent damage. Postage included.